We provide Squash Court that is highly appreciated by Schools, Offices, Clubs, Sports Organisations and so forth. Technically advanced design and sound layout system make the Squash Court highly efficient. Our Squash Court is made in accordance with the standards of WST (World Squash Federation). It comprises kiln Seasoned/ dried imported American hard maple or European sycamore wood surface board that offers durability. The below frame is fabricated from fir / spruce/ pine wood runners which is imported from New Zealand/ Australia or Germany. Our Squash Court meets all the safety requirements and building codes owing to which It can easily withstand the breakages.
Safety is our first concern. Each integral part of our wall system is tested and reviewed for safety. The tempered safety glass is tested to meet high load bearing impact and is designed to crumble into small, dull pieces in the unlikely event that a panel or tin should break. Tempered Glass has a very high static load resistance (3 to 5 times) as well as a very high impact resistance (5 to 10 times) compared to ordinary glass.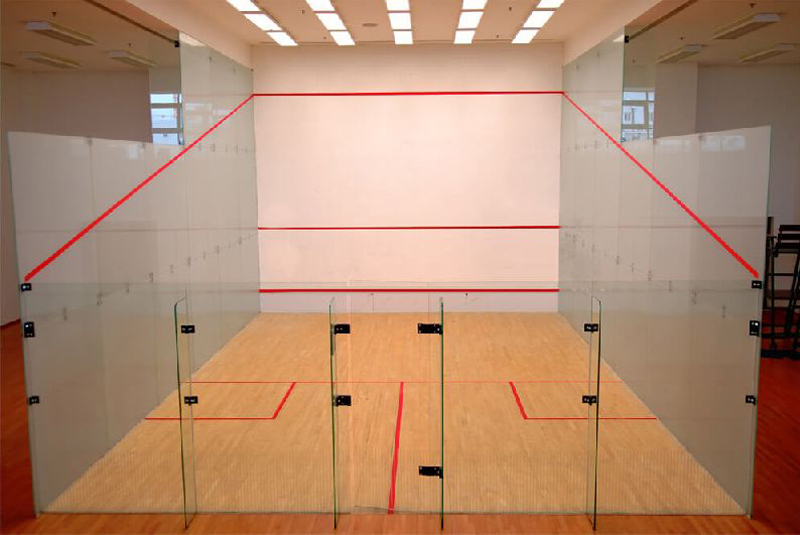 The Hard Plaster System consists of two layers, fibermesh reinforced, resin modified 9mm thick base coat and 3mm thick finish coat of a total thickness of 12 mm and coated with a special washable paint system. The hard plaster system can be applied directly over the brick wall thereby saving considerable cost of initial cement plaster. The hard plaster surface provides the toughest, most durable and easy to maintain Squash court wall finish available. The surfaces are available in white and a series of pasted colors to meet the customer's requirement.